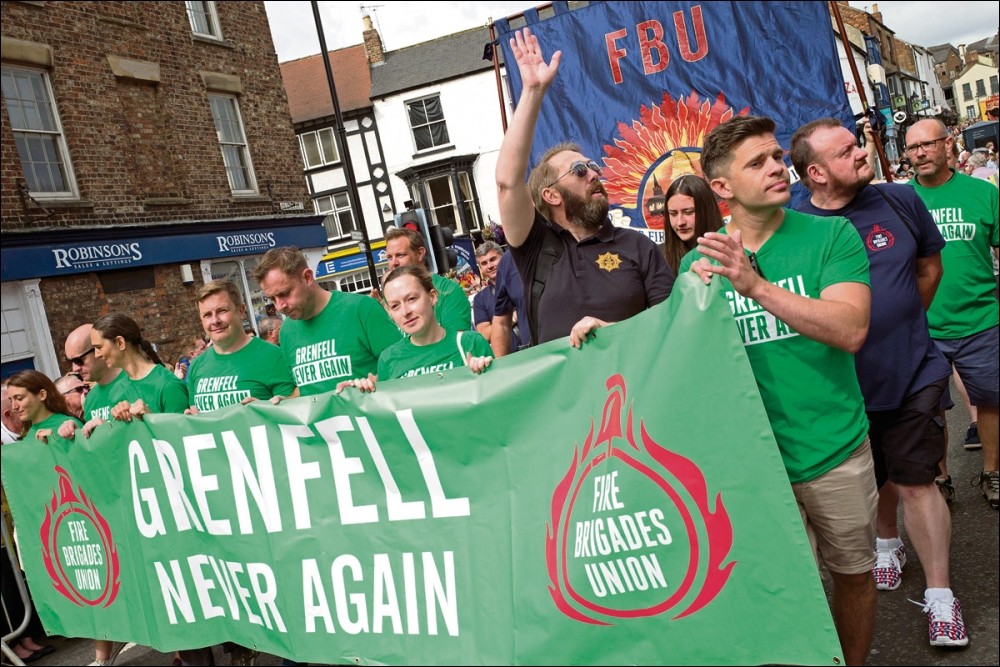 This article originally appeared in the Socialist on 21 November 2019
Fire ripped through a six-storey student accommodation block, with what eyewitnesses described as terrifying speed, on the evening of Friday 15 November.
The fire started on the fourth floor of the Cube, a six-storey University of Bolton building. Within 90 seconds it had spread to the top level, and reached the roof 40 seconds, later leaping across floors spread by cladding. 211 students have been left in temporary accommodation.
Two and a half years after the catastrophic fire at Grenfell Tower the government is still failing to act on fire safety.
Firefighters' union (FBU) leader Matt Wrack rightly commented, "It's deeply troubling to see fire spread rapidly up a building's exterior again – a shocking indictment of the government's shameful inaction after Grenfell."
Unsafe cladding
It is reported that the cladding is not the same as the ACM (aluminium composite material) used at Grenfell – this points to the scale of the safety problem.
The government has failed to act on warnings about HPL (high pressure laminate) cladding, apparently used in Bolton.
Attention has focused on Grenfell-style cladding, but progress has been slow in social housing and worse in the private sector.
At the current rate of progress it would take until October 2033 for the buildings to be made safe.
Government targets are inadequate and are being missed. But this was another terrifying fire, like the recent Barking Reach fire, in a building under 18 metres high, and therefore outside the scope of the government ban on combustibles.
The position is made worse by cuts to the fire service. Boris Johnson made deep cuts when London mayor and the cuts continue.
Fire service cuts
Les Skarratts, FBU North West executive council member said, "Greater Manchester has lost more than 600 firefighters since 2010 alone and, alarmingly, Andy Burnham is trying to cut another six fire engines, including one in Bolton.
"We need to stop the senseless cuts to our fire and rescue service before we see another awful incident like this."
Student unions and tenant groups should demand to see fire risk assessments. Ultimately, if they don't get satisfactory answers they could organise to withhold rent – 'no safety, no rent.'
Trade union safety reps in workplaces with buildings covered in cladding should ask employers about the type, the risks and what they have done and are doing to make it safe.
Labour shadow housing minister John Healey said the fire should be a "wake-up call" for cladding to be removed.
This is a chance for Labour to campaign on reversing fire service cuts and a programme of housing investment to make buildings safe. It should pledge to reimburse local councils that start the work immediately.
Socialist Students fights for;
For universities to provide decent, safe, and affordable housing for all students, and Students' Unions to promote and campaign for this – end the driving of students into the arms of rip off landlords and letting agencies.
For immediate rent controls – councils can and should use their legal powers to implement an immediate programme of rent controls on all locally rented housing.
The banning of all agency and contract fees – don't allow rip off landlords to profit from our misery.
For a mass programme of council house building – councils should use their resources to launch a mass programme of affordable council house construction.